Citroen Latest News – DS3 Cabrio

STRONG STYLING CHOICES
The Citroën DS3 Cabrio maintains the distinctive features that made the hatchback such a success, such as the floating roof, shark's fin, and generous customisation offering. The styling of this new convertible is both radical and appealing, particularly with its rear 3D LED lights.
OPEN TOP
The Citroën DS3 Cabrio brings you freedom and the chance to get away from it all.  The sequential opening  mechanism of the soft top can be set to one of three different positions. It functions at speeds of up to 120kph and in less than 16 seconds.  Enjoy the open road and make the most of the open air driving sensations.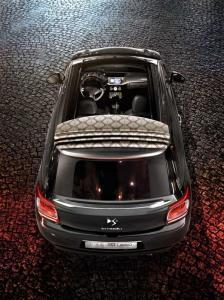 CREATIVE TECHNOLOGIE
Technology is at the heart of the Citroën DS3 Cabrio. For example, the original 3D light signature sports new technology, with a 3D LED light at the rear. Other innovative features include the exclusive boot opening mechanism and an audio system of exceptional acoustic quality.
COMFORT
The Citroën DS3 Cabrio combines compact exterior styling with uncompromising practical features. With seating for five, benchmark soundproofing and an array of Créative Technologie equipment for your comfort and safety.
RESPONSIBLE PERFORMANCE
The Citroën DS3 Cabrio ships with a  range of high-performance petrol engines, designed to respect the environment. Including the 7 time award winner for 'International Engine of the Year'  which delivers 115 kW of power whilst keeping emissions low at just 135g CO2 /kW.
Source: Offical Citroen Australia Website DS3 Cabrio Coming Soon
DS3 Cabrio: Escape the Ordinary
Citroen Official Video 2013